Last year TBA brought some great visual arts to Portland, and this year looks to be even better, so with that in mind, Wednesday I went south to Reed to check out the new Marko Lulic and Peter Kreider show at the newly renovated Douglas F. Memorial Art Gallery. Also, I wanted a hot dog.
I arrived too late to see Sarah Dougher and Friends, but Root Beer & French Fry were just setting up, and they were completely awesome. It was just their first show, but they sounded really finished, and Fans of Tristeza, Explosions in the Sky, or the Sea and Cake should definitely hop on over to their myspace to download their mp3 and get in on the action before they're all huge.
But on to the art, eh? Peter Kreider had some great work on display, coaxing the viewer into reconsidering the cleverly manipulated subjects. A giant-scale configuration of electrical attachments (triple-taps, extension cords, etc…) lorded over the floor where I entered, its parts assembled into a large, dangerous looking "X," while nearby, an assemblage of milk jugs with eerily sculpted skulls leered. These two, my favorite pieces at this showing of Peter Kreider's work, transform everyday objects into almost living beasts; the simple (but well done) manipulations of everyday objects endowing them with the dormant power of a taxidermed grizzly.
Marko Lulic's work was well matched with Kreider's, but was more overt and humorous (i.e. large pink letters spelling "edifice complex" and "social housing for billionaires"). Dealing mostly with themes of modernism in architecture, Lulic's work created an intriguing argument between the promises and possibilities of rebuilding communities in a modern fashion, and the loss of history and past. Maybe they should've shown this stuff up on Mississippi?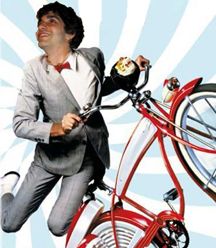 By abe
Hollaback?